How to buy Bitcoin – these are the options to invest into the cryptocurrency
Ever since it launched in 2012, the exchange rate of Bitcoin has been performing a soaring rally, in spite of various hacking attacks and other setbacks. Someone who bought Bitcoin for a few hundred dollars a few years ago is now a millionaire. But how can you invest into the cryptocurrency and where can you buy Bitcoin?
In the past few years, Bitcoin has been performing quite admirably. In 2016 alone the price has risen by more than 126 percent. 2017 it reached new heights of 20.000 Dollars and some analysts predict a rise to 500.000 Dollars. Others call Bitcoin "nothing but hot air" and believe it to be essentially worthless. But the fact of the matter is that the price is determined by supply and demand. And the demand for anonymous currencies like Bitcoin is on the rise. Some of the reasons for this are the capital controls in China that can be circumvented with cryptocurrencies, the trade of illegal goods on the darknet that is mostly done with Bitcoin, and of course the increase of speculative investment in the currency.
In light of this performance, investors' interest in the cryptocurrency is rising. But how to buy Bitcoin? There are several ways and we are going to take a look at the pros and cons of each.
The easy way to trade Bitcoin – Bitcoin as CFD
Potential traders who want to participate in the value development of Bitcoin and are less concerned with anonymity can easily trade using CFD Broker Bitcoins. You participate in the value development but never own any Bitcoin physically. The most speculative of investors can use Bitcoin CFDs and apply leverage of up to 30. That means that the CFD would rise and fall 30 times as much as the original Bitcoin. But a one-to-one participation is also possible.
If you want to know how to trade Bitcoin CFDs, you could use the finanzen.net-Partner Plus500. Additionally Plus500 offers payment by credit card and paypal and opens accounts quickly. But of course you can use any other CFD Broker of your choice.
CFD-Broker
Promotion

Account opening in 15 minutes. Deposit by credit card or PayPal possible.
Capital at risk. Terms and conditions apply.
How to buy real Bitcoin
If you want to participate in the value development but also need anonymity, real Bitcoin is your only choice. Once you have decided to purchase real Bitcoin you will need a wallet. This electronic account is like a checking account because you can use it to transfer funds and receive Bitcoin. The transfer of Bitcoin is like a normal bank transfer, the only difference being that instead of an account number there is a receiving address. Because digital currency is transferred directly between individuals without a middleman, the fees are lower than what banks typically demand for transactions.
If you buy Bitcoin using several different portals, they can be combined in a single Bitcoin wallet. For day to day use it is easiest to use a Bitcoin wallet app on your smartphone, but you can also have a wallet for online payments on your PC or tablet. After you downloaded and installed your wallet you will need to secure it with a strong password, known as a passphrase. This access code will need to be entered for every transaction.
Bitcoin marketplace
The first option for people looking to invest into the cryptocurrency Bitcoin is online at a Bitcoin marketplace. A popular American Bitcoin marketplace is coinbase.com. Here users trade directly with each other and the price is determined largely by supply and demand. This leads to a generally favorable Bitcoin price. Marketplaces like this allow registered users to make bids for the purchase or sale of Bitcoin with another currency. Buyers can see how many Bitcoins a seller is offering, and at what price. A transaction is completed when an offer is accepted by another user. The buying price of the sold Bitcoins is transferred to the bank account of the seller. Depending on the marketplace, the providers might demand a small fee for the exchange, the deposit or the withdrawal of funds.
However this fee is lower than the price differential between buying and selling at exchange bureaus. Buyers and sellers each share half the fee. It should be noted that some banks are better compatible with some Bitcoin marketplaces than others. Check with your bank if you are unsure if they allow uncomplicated transactions with your marketplace.
Bitcoin exchanges
Bitcoin exchanged are an alternative answer to the question of how to buy Bitcoin. The most popular exchanges are CEX.IO, Kraken, Bitstamp and Paymium. The prices for Bitcoin can vary wildly between exchange platforms. Trading with Bitcoin on these platforms happens automatically, whereas trades on a marketplace are completed manually and users have to find the sell offers for themselves.
Traditional currencies like the US-Dollar and Euro can be exchanged for Bitcoin. If you want to buy Bitcoin you just need to declare how many coins you want to buy at what price. When the exchange finds a matching offer, it will buy the Bitcoins on behalf of the user and add them to the user's account. CEX.IO makes the transaction very easy, especially because it accepts VISA and MasterCard as methods of payment.
Screenshot: Bitcoin price of major currencies in comparison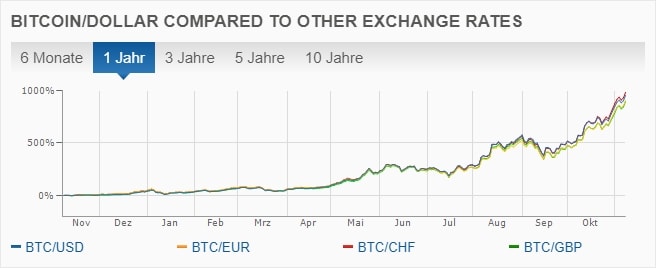 Invest to Bitcoin by certificate
If you want to buy Bitcoin but don't want the hassle of opening accounts on Bitcoin marketplaces, you can also purchase Bitcoin at the stock exchange. All you need is a securities account. You can obtain such an account free of charge from www.finanzen-brokerage.net, among others.
The purchase of Bitcoin via the stock exchange is made possible by the Bitcoin participation certificate of Vontobel. The certificate follows the performance of Bitcoin, but is no "real" Bitcoin itself, but a derivative product thereof.
How to buy Bitcoin offline
Even though it is a digital currency, Bitcoin does not have to be purchased online. There are several ways to invest into the cryptocurrency offline with hard cash. The cheapest and easiest way to obtain Bitcoin is to buy it off another person. Platforms like localbitcoins.com can lead you to private merchants in your area. But be careful! This kind of transaction is anonymous and unregulated.
In many places you can also find regular meetings for Bitcoin fans, where they meet to discuss recent developments and news around digital currencies. These direct exchanges can be the easiest way of getting information on Bitcoin, blockchain (the security technology behind Bitcoin transactions online) and other cryptocurrencies. These meetups also offer opportunities for buying and selling Bitcoin.
Apart from localbitcoins.com there are many other meetups and exchange platforms. Some places even have Bitcoin vending machines that let you purchase Bitcoin with regular cash. These machines differ between manufacturers, but the working principle is the same: You feed them cash, they scan your wallet and save the Bitcoin to your digital wallet in your smartphone.
CFD-Broker
Promotion

Account opening in 15 minutes. Deposit by credit card or PayPal possible.
Capital at risk. Terms and conditions apply.
Disclaimer: This article contains affiliate links. This means that finanzen.net might receive a commission if you complete a registration or transaction on one of the linked websites. This will not incur any additional cost for you. Disclaimer for Plus500: Deposited funds suffer a certain risk. Plus500UK Ltd is authorized and regulated by the Financial Conduct Authority (FRN 509909).
Image Source: gualtiero boffi / Shutterstock.com