Erfolgreicher Hedgefonds
Darin investiert Ray Dalios Bridgewater
---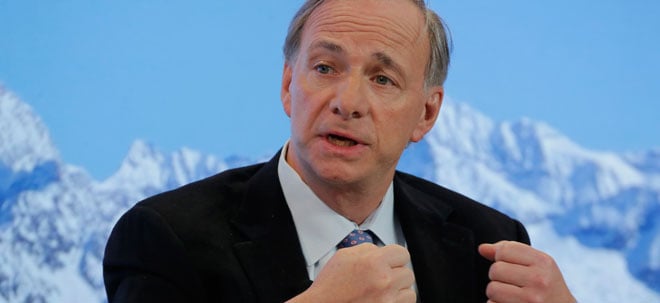 Mit seinem Hedgefonds Bridgewater Associates konnte Ray Dalio auch für sich selbst schon ein recht ansehnliches Vermögen anhäufen und rangiert mit seinen 17,7 Milliarden US-Dollar auf dem 67. Platz der Milliardärsliste von Forbes.
Ray Dalios Fonds managt nach eigenen Angaben Gelder im Wert von 160 Milliarden US-Dollar, Bridgewater ist damit einer der größten Hedgefonds weltweit. Auch Privatanleger können sich bestimmt einiges von dem Hedgefonds abschauen. In welche Aktien Bridgewater im zweiten Quartal 2018 wie viel investiert hat, wo er Zu- oder Verkäufe getätigt hat, musste das Unternehmen wie alle großen institutionellen Anleger und Hedgefondsmanager mit einem Vermögen von mehr als 100 Millionen US-Dollar im sogenannten 13F-Formular vor der US-amerikanischen Börsenaufsicht SEC offenlegen.
Neukauf von Amazon, Alibaba und Baidu
Im Bereich des Online-Handels scheint Dalio von den beiden Konkurrenten Amazon und Alibaba begeistert zu sein, die davor noch nicht in seinem Portfolio vertreten waren. Bei Amazon investierte er dieses Quartal das erste Mal und hält nun 1.042 Anteilsscheine im Wert von 1,77 Millionen US-Dollar in seinem Hedgefonds. Der chinesische Konkurrent Alibaba scheint ihm aber noch mehr zu imponieren: Hier hat er 84.629 Papiere gekauft im Gegenwert von 15,7 Millionen US-Dollar.
In China scheint Bridgewater viel Potenzial zu sehen. So gingen im zweiten Quartal 2018 28.834 neue Baidu-Aktien in den Besitz von Dalios Hedgefonds über. In den Betreiber der Baidu-Suchmaschine hatte der Fonds bisher ebenfalls noch gar nicht investiert.
Anteile an Royal Bank of Canada und Toll Brothers stark erhöht
Seine Anteile vermehrt hat Bridgewater unter anderem bei der Royal Bank of Canada. Hier stockte er seine Anteile um 254 Prozent auf - sprich zusätzliche 429.755 Aktien - ein und hält nun Aktien im Gesamtwert von 45,04 Millionen US-Dollar an der Großbank.
Um 349 Prozent erhöht hat Dalio Bridgewaters Anteile an dem US-amerikanischen Bauunternehmen Toll Brothers. 1.027.048 Anteilsscheine hält der Hedgefonds hier nun, die einem Wert von knapp 38 Millionen US-Dollar entsprechen.
Trennung von General Electrics und Adobe
Nicht so überzeugt dürfte Bridgewater von dem Biotechnologiekonzern mit Sitz in Cambridge, Biogen, sein. Hier trennte er sich von 70 Prozent seiner Anteile - 54.378 Wertpapieren. Auch die Anteile am Energieversorger PG&E und an GameStop, Einzelhandelskette für Unterhaltungssoftware und Computerspiele, wurden reduziert.
Ganz trennte sich Bridgewater von seinen Anteilen an General Electric, fast anderhalb Millionen Aktien hielt der Hedgefonds davor an dem Mischkonzern, um den es momentan nicht so gut steht. Und auch der Softwarehersteller Adobe wurde aus dem Depot geschmissen.
Gold weiterhin als starke Investition im Blick
Woran Ray Dalio allerdings weiterhin glaubt, ist der Rohstoff Gold. Trotz des jüngsten Wertverfalls hat er hier keine Anteile verkauft, sondern hält weiterhin 11,3 Millionen am iShares Gold Trust ETF und 3,9 Millionen Wertpapiere am SPDR Gold-Fonds.
Theresa Rauffmann / Redaktion finanzen.net
Ausgewählte Hebelprodukte auf Alibaba
Mit Knock-outs können spekulative Anleger überproportional an Kursbewegungen partizipieren. Wählen Sie einfach den gewünschten Hebel und wir zeigen Ihnen passende Open-End Produkte auf Alibaba
Der Hebel muss zwischen 2 und 20 liegen
Weitere News zum Thema
Bildquellen: CNBC/Getty Images, Michel Euler/AP
Nachrichten zu Amazon
Um die Übersicht zu verbessern, haben Sie die Möglichkeit, die Analysen für Amazon nach folgenden Kriterien zu filtern.
Alle: Alle Empfehlungen
Buy: Kaufempfehlungen wie z.B. "kaufen" oder "buy"
Hold: Halten-Empfehlungen wie z.B. "halten" oder "neutral"
Sell: Verkaufsempfehlungn wie z.B. "verkaufen" oder "reduce"